To view larger format, please click here.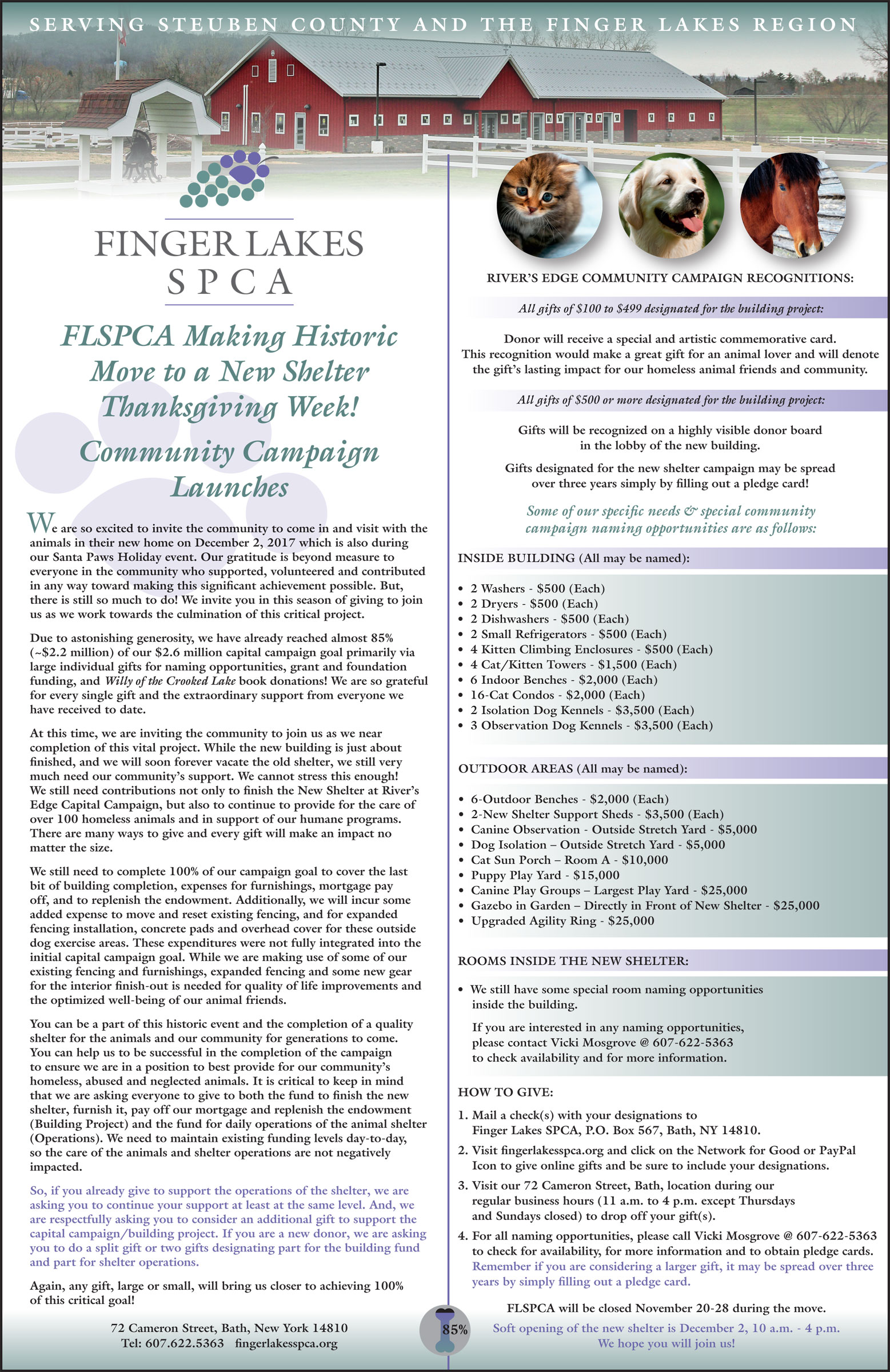 Are You Ready for the BEST NEWS EVER? We are Targeting Home for the Holidays in 2017!!
All of us have been beyond anxious to move the animals to their new home and into a quality shelter that will serve the community and the homeless animals in our area for many years to come. Well, that time is on the very near horizon and is in the making for this year's holiday season. Yes!
The interior finish-out of the new shelter (Final Construction Phase) started in May 2017 and is anticipated to last through the end of October. We are targeting November 2017 as our moving month, and we are projecting to have the animals (and our staff) in the new shelter just in time for the holidays.
There is still money needed to complete the construction of the new shelter and the capital campaign as a whole. We are planning to bridge the new shelter construction gap of $100,000 with financing while we continue to work to raise remaining funds through the community portion of our campaign. Please stay tuned, as we will be introducing commemorative naming opportunities for smaller gifts and additional community fundraising initiatives very soon. Moreover, we encourage you to reach out to Vicki Mosgrove, Executive Director at 607-622-5363 if you think you may have an interest in a larger naming opportunity. While some of these special room recognitions are still available, they are quickly being reserved.
We have reached ~80% (~2.1 million) of our overall River's Edge Campaign goal of 2.6 million dollars. In addition to the ~$100,000 needed to complete the final phase of new shelter construction, funds for certain furnishings, mortgage payoff and our endowment are still needed to complete the campaign.
During the first ½ of this year, we had a big boost in giving to help us reach the 80%. Increased publicity about the shelter nearing completion, a matching grant opportunity from the Marion E. Cantwell Trust and the support of our community to meet the match, and additional and outstanding volunteer support to assist with naming opportunities solicitations all helped give us a big lift and major momentum in campaign progress. The overall spirit of charity and compassion from friends of the shelter and supporters continued, including the significant kindness of a donor who recently gave a $100,000 pledge! We are humbled, inspired and immensely grateful for all the support of this critical project from our community and beyond! Gifts, both large and small, volunteer dedication and time, community collaboration and so many people working closely together are leading us down the successful path to nearing the culmination of this essential campaign.
Earlier this year, we also responded to two large-scale emergency animal rescues. In January, we aided over 104 puppies (with the assistance of Bath Veterinary Hospital) when the box van that was carrying them to pet stores overturned on I-86. Fortunately, all pups survived, and the few who had serious injuries were able to be nursed back to health. Additionally, in March, we assisted 64 cats who were faced with nowhere else to turn when their home was in the process of being condemned because of hazardous conditions. While we were able to successfully perform these rescue operations with our existing shelter and networks, it was monumentally difficult from a facilities standpoint. These emergencies alone, notwithstanding the day-to-day need for the lifesaving work of FLSPCA to rescue, rehabilitate and re-home abused, orphaned and unwanted animals, highlight the critical need for the new shelter.
There is still more work to do, but this is amazing progress to share, appreciate and celebrate. Thank you, to each and every one of you who help support our Mission of animal protection and strengthening the human-companion animal bond.