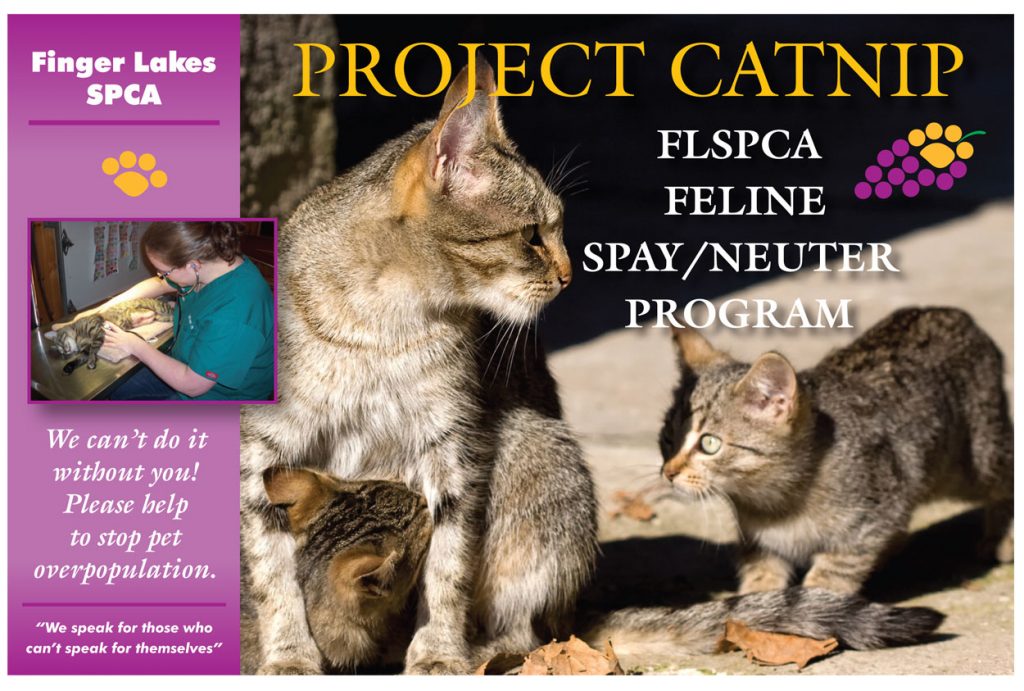 Spring is upon us, which means flowers are blooming, songbirds are signing and sunny days are ahead. Spring also marks the beginning of puppy and kitten season is our area. It is no coincidence that this time of year also coincides with the start-up of one of our most important humane programs. In April, at the River's Edge Farm, we officially kick off our 18th season of Project Catnip. Since the inception of this MASH-type, low-cost feline spay/neuter program, over 5,124 area felines have been sterilized.
This program is held one weekend each month, from April to October/November. The spay/neuter clinics are high-volume, with as many as sixty-seven cats being altered in one session. In addition, all felines that participate in this program are vaccinated for rabies free of charge. These surgeries are provided at low or no cost to financially struggling community members who care for one or more feline friends and, whenever possible, to Good Samaritans working to help improve the lives of needy cats in our area.
Project Catnip was established because spaying/neutering is a critical tool in ending animal overpopulation in a humane and cost-effective manner. Additionally, quite some time ago, our shelter instituted a policy of "neuter before adoption" which is meant to ensure our orphan animal friends are spayed/neutered prior to being placed back into our community. Some of our local veterinarians and the FLSPCA subsidize a portion of the cost of these important surgeries. Moreover, with the help of partner agencies, the Finger Lakes SPCA has expanded spay/neuter services to assist more feral cats in our county. This past year, we helped to provide TNVR (Trap, Neuter, Vaccinate & Return) services for 100 feral felines. In 2017, we plan to continue to provide this vital assistance to feral and community cat populations.
These services, along with our ongoing care for sheltered animals, wellness clinics, adoptions, the humane education program, animal cruelty prevention and canine training programs, help reduce companion animal overpopulation, alleviate animal suffering, save lives and diminish public rabies threats in our area. Because the Finger Lakes SPCA is primarily funded by private giving, your contribution of any size will help to make these essential services possible! We hope you will consider donating today to help with the cost of ongoing care of our orphan animal friends and the wealth of other important services the Finger Lakes SPCA provides to our community.
Too Many Companion Animal Friends, Not Enough Homes!
Pets that are not spayed or neutered can add to the severe pet overpopulation problem when they are allowed to breed. Finger Lakes SPCA wants to help put an end to pet overpopulation.
PROJECT CATNIP (spay/neuter assistance for cats)
Catnip is a public service program that helps to reduce feline overpopulation in our area by preventing births, thus reducing the number of unwanted and uncared for cats in our area. People of our community benefit from this program as well because these surgical procedures eliminate many health issues as well as unwanted behaviors association with reproduction. Furthermore, spaying/neutering is humane and saves our community dollars. It is far more costly to round up, care for and euthanize the offspring of these animals. The Finger Lakes SPCA works hard to help our animal friends in need and knows Spay and Neuter Programs are essential to the humane elimination of this tragic and costly problem.
2018 Program Details & Dates:
Low income and multi-cat households (or multi-cat caretakers) can participate in "Catnip"
Cats must be four months old (approximately four pounds) & healthy to participate Cat returns home on the same day as the surgery.
Males (neuter w/ "free" rabies shot) – $35.00
Females (spay w/ "free" rabies shot) – $50.00
In special situations, whereby even the above sterilization fees are considered a hardship, the surgery may be made available at a further reduced rate or even "free" (for qualifying families) – thanks to the kindness of a donor.
Catnip Calendar: *Tentative Dates, subject to change
April 14th & 15th
May 12th & 13th
June 16th & 17th
July 14th & 15th
August 11th & 12th
September 15th & 16th
October 13th & 14th
November 10th & 11th
PLEASE NOTE: ALL DATES ARE BY APPOINTMENT ONLY
Anyone interested in general spay/neuter information or having his or her cat spayed/neutered through this program should call the Shelter (776-3039) and ask about Project Catnip.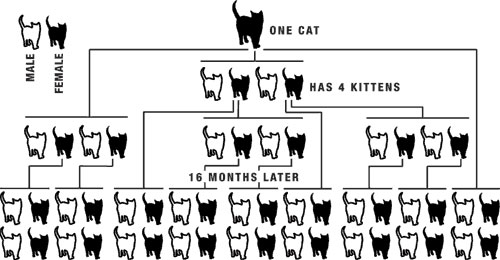 "Number of cats and dogs entering shelters each year: 6-8 million
Number of cats and dogs euthanized by shelters each year: 3-4 million … [more]"