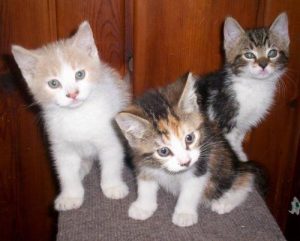 The adoption process is not difficult; it is aimed at assuring that you and your cat or dog are good matches and will have a long and happy future together.
A questionnaire gathers information about you, your family, and any other pets you may have. Then, one of our adoption counselors will discuss your compatibility with the cat or dog you have selected.
Our standard adoption fees are as follows and help cover a portion of the cost of the services included in our adoption packages:
Spayed/Neutered
$70.00 Cat/Kitten
$140.00 Dog
$175.00 Puppy
The adoption fee for all Cats/Kittens includes:
A spay/neuter surgery (animals are spayed/neuter prior to going home to their new family)
A complete physical exam at a participating veterinarian
Rabies vaccination
Feline distemper, rhinotracheitis, calici virus, and pneumonitis vaccination
Testing for feline leukemia virus and feline immunodeficiency virus
Two doses of dewormer for round and hookworms
One dose of flea preventive
Microchipping (when available)
Offer for 30 days of free pet health insurance
Adopters are entitled to a free grooming for their newly adopted shelter companion within 30 days of adoption at a participating pet salon.
The adoption fee for all Dogs/Puppies includes:
A complete physical examination at a participating veterinary hospital or veterinary clinic
Rabies vaccination
Canine distemper virus, parvovirus, adenovirus, parainfluenza virus and leptospirosis vaccinations
Two doses of dewormer for roundworms and hookworms
One dose of flea preventive
Microchipping (when available)
Offer for 30 days of free pet health insurance
If you are a Senior Citizen (55 years and over) adoption fees may be completely waived for select shelter animals. Get more details on our "Adoption Specials" page.
Horse Adoption
Our equine adoption process is in place to assure that all horses are properly matched to caring, competent and long-term homes. We encourage people to take their time when considering adopting a horse. The cost of caring for a single horse is a minimum (emergencies excluded) of $2,500 a year. Horses can live to be thirty years or more and to care for them properly requires special knowledge and usually practical care experience. An adopter has to have this knowledge and experience or has to know how to seek it out, apply it and rely on other more experienced horse people for support and assistance. Depending on the facilities, support help, equipment you have and other factors (such as a horse's individual training level, etc.) taking care of an equine can also be labor intensive. Day-to-day care could require mucking out stalls, picking feet, carrying grain, water and supplies, providing hay, medicating an ill horse, moving and handling, etc. It is a big commitment.
For all your question about "Adopting a horse through the Finger Lakes SPCA" read the Equine Adoption Process Document.
And if you are interested in adopting one of our horses, please fill out the Equine Adoption Application and review the Equine Adoption Agreement.