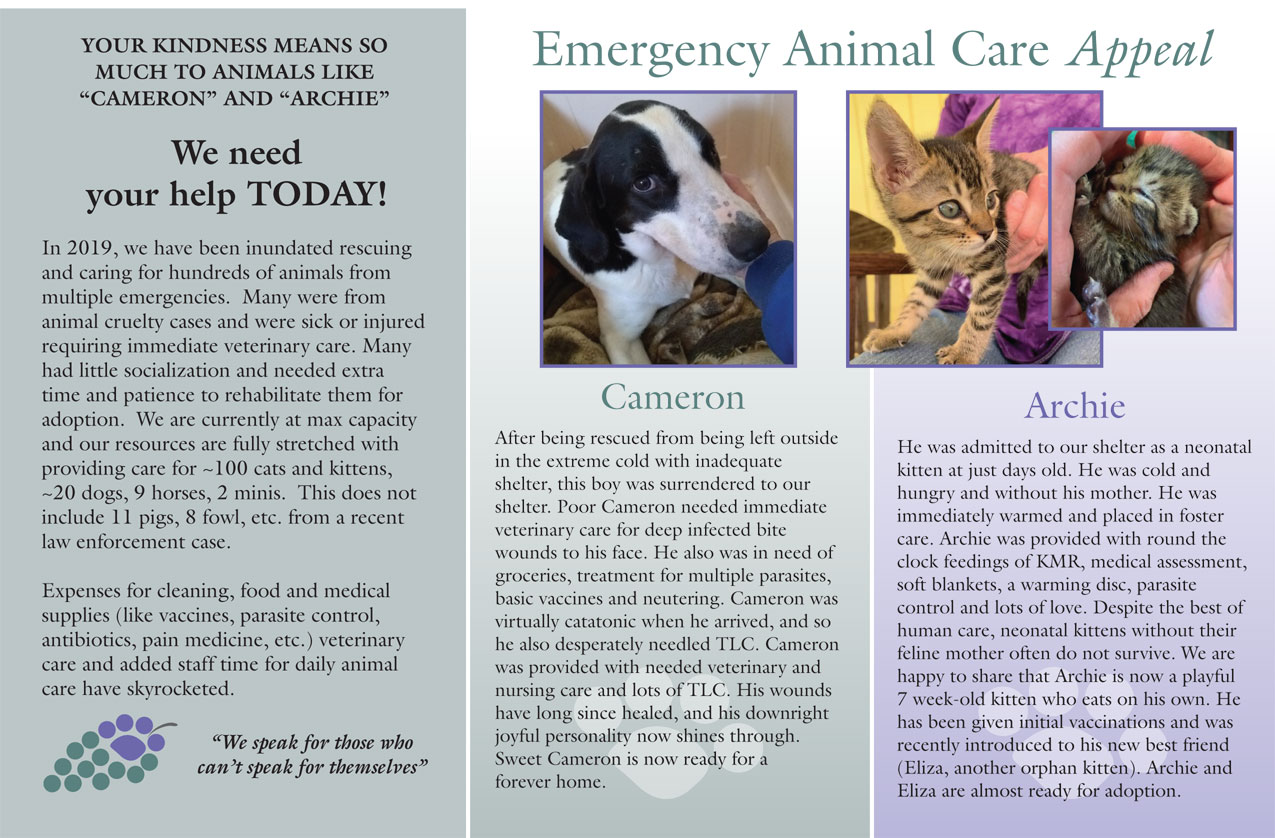 Dear Friends,
"Cameron" and "Archie" are just two of our over one hundred orphan animals that need your continued support and care today.
Imagine being homeless, sick or injured and not being able to speak to obtain help. Thankfully, for our animal friends, there are wonderful people like you who see and empathize when animals are in need of a helping hand. SPCAs were formed to help protect animals and many
(like our SPCA) are sustained primarily by private giving.
Additionally, caring individuals and groups working together are crucial ingredients to prevent animal suffering and to save lives: No man or shelter is an island! Without the support and collaboration of our veterinary community, local shelters and rescue groups, numerous volunteers and concerned citizens, so many animals would continue to suffer in isolation.
From the person who helps to ensure a stray or injured animal receives care and/or safe refuge, to the rescue group that works with another to share their networks and resources, to the veterinary practice that donates their services, to the shelter volunteer who supports in any way she/he can, to the shelter staff person who always goes above and beyond, to the person who adopts from a shelter, etc. – all are a part of a life-saving synergy. It takes a community working together to effectively tackle the difficult and demanding job of speaking and
caring for those who cannot speak for themselves.
I'm writing today to ask you to consider giving a financial gift to help us to provide care for animals who desperately need our help – animals like "Cameron" and "Archie". Your gift will help provide shelter, nourishing food, medical care and will help support programs that prevent animal cruelty, overpopulation and homelessness. Like most animal shelters, ours is almost always filled to capacity, and there are always more animals in need of services. We are able to provide critical care because of your significant kindness and financial support. Without your ongoing compassion and spirit of charity, animals like "Cameron" and "Archie" may continue to suffer in silence and have no hope. Your gift today WILL MAKE A POSITIVE DIFFERENCE for an animal friend. Remember, a gift of any size helps.
Sincerely,
FLSPCA Orphan Animals, Volunteers & Staff
YES, I WANT TO PROVIDE MEDICAL CARE AND SHELTER FOR THE ANIMALS!
To mail in your donation, please click here to print and fill out our mail in donation form.
Make a gift today
Donate now through Network for Good to donate online.