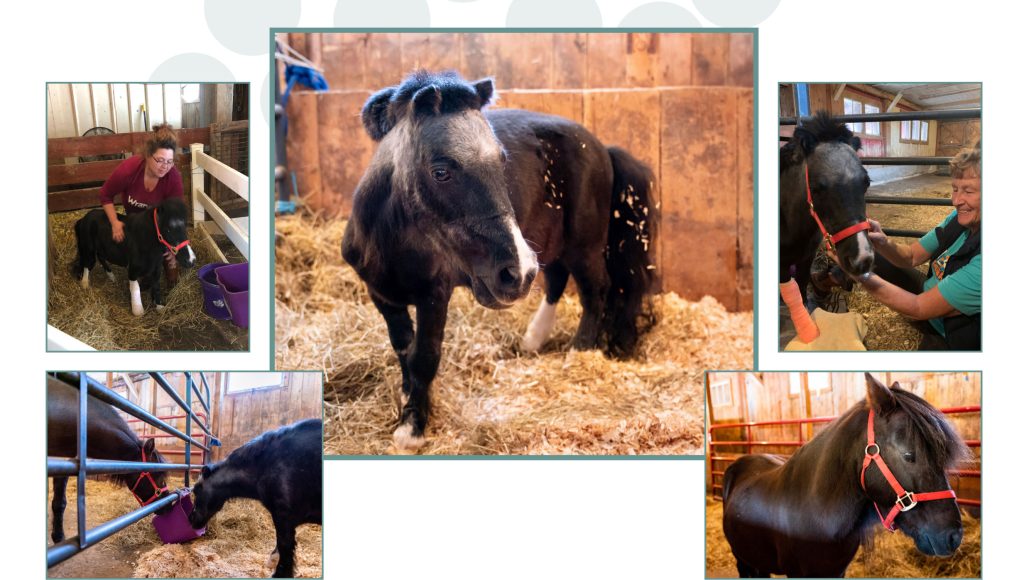 Dear Friends,
Please give an urgently needed gift in the honor of WeeBiscuit to help us with recent extraordinary animal care expenses. Our shelter is at maximum capacity and we desperately need your emergency support!
My name is WeeBiscuit. I am a dwarf horse, which means I am very small. For many years, I lived with my herd mate Cole (a pony) in a very scary place. We had no clean water to drink. Many days, we were so hot, thirsty and hungry. Every year of my life got sadder because my teeth were never kept smoothed off, allowing them to get long and sharp. So even if any food was left, I could hardly chew it without it hurting me. It was painful for me to stand and move too, because my hooves grew so long that they looked like elf shoes. It made me so sad when I was no longer able to run or walk like a healthy horse. I had to bend over or try to walk on my ankles or knees to reach anything. I was very, very afraid! I live in a small dark shed that was like a torture chamber. I could see some poor hay in the corner, but I could hardly get to it. Outside my shed was a big pile of manure and very deep mud. I knew that if I dragged myself outside, I would get stuck in the deep mud and die right there.
Cole was luckier than me. He still had good legs and feet and was able to go outside to try to find what he could to eat in a pasture. But this water pail was full of slimy green liquid and his water tub had no bottom in it. He was thirsty and getting quite thin. Cole is like a brother to me, my best friend and his companionship is the only reason I kept on living.
Then, something very unexpected and lifesaving happened to us on July 24 of this year. I heard several kind voices outside my shed. I didn't have any idea that something wonderful was about to happen to Cole and me. The next thing I knew, six friendly human faces were looking in at me. They spoke softly and reassured me that I didn't need to be afraid anymore, offered me cool water and a small amount of food (they promised more soon too). I cannot tell you how happy and hopeful this made me feel. There was a lot of talking going on. I wasn't sure what they were saying. But I knew they were there to help me. I was all in, whatever they planned to do.
A nice doctor named Karen checked me over. Then they rigged up a sling apparatus, and four of the people were able to carry me to a trailer all filled with soft clean bedding and padded walls. They placed me in there an told me not to worry, that they would be bringing Cole too. It took them some time to get Cole on board with the plan, but eventually he realized the people were there to help. So, he decided he would let one lead him on the transport to be with me.
We were brought to a place called Finger Lakes SPCA's River's Edge Farm. Once we were unloaded, good things happened very rapidly for Cole and me. Clean beds of straw in a safe barn were prepared so we could stay together. Fresh buckets of water were hung, and we were given small but constant amounts of delicious hay. More veterinarians came to see us and we had two human caretakers (Cassie & Sue) to call our own. They made sure we had everything we needed to feel safe and comfortable and they never left our sides. One of them even gave me a complete body shave. I forgot to tell you I looked like a baby Woolly Mammoth at first.
At my new home, the sunlight shines brightly into a space big enough for Cole and me to be very happy. We get lots of fresh air too. I was given medicine to take every day, so for the first time in a long, long time I didn't hurt so much. And then another very big thing happened; a nice man came and trimmed away the gigantic slippers which were my overgrown hooves. He also came back a few days later and fixed my teeth, so all the sharp points were now smooth. I could chew again without pain and actually was able to walk, albeit awkwardly. I could hardly believe so much good was happening to me. Cole had his teeth and hooves taken care of too.
After I had a chance to settle in and become stronger, my caretakers told me I had to make a trip to an animal hospital to have my feet and legs checked by an x-ray machine. Everyone said it was important for me to go to help me live my best life. I was uneasy about leaving Cole and my new home, but I trusted my new family.
The x-rays showed I had a wire embedded in my leg (like a bracelet). It was not visible to anyone from the outside and it was causing an infection. The wire had been in my leg for years and it had to be removed to save my life. The x-rays also showed my feet and legs had certain deformities due to my hooves being neglected for so long. But, if I had a corrective surgery, I had the hope of walking more normally and comfortably. While this surgery would cost a lot of money, my friends at FLSPCA and everyone who meets me say, I have the heart of a champion and a strong will to survive. They all thought I deserved the chance for a better quality of life, especially after all I had endured.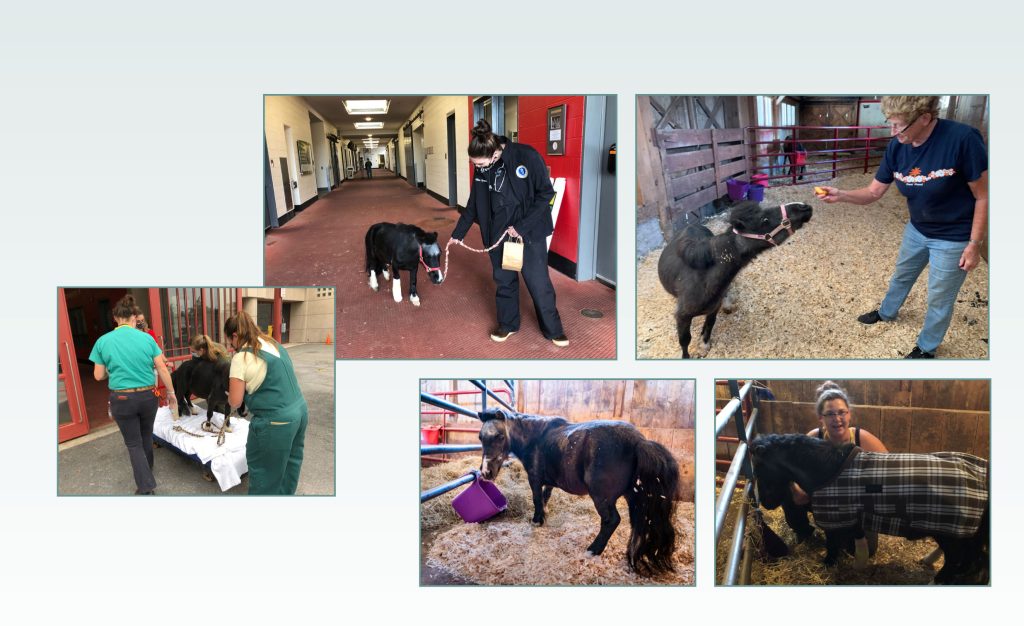 I spent two weeks at the special hospital. This was frightening for me, but I was very brave. I liked making everyone proud of me. To date, my medical care through Cornell Veterinary Hospital cost ~ $6,500. The additional veterinary and health care already provided to me and Cole while at the shelter totaled $1,600. I will need frequent hoof trims, ongoing medication and additional medical assessment to ensure I continue to have a good comfortable life going forward. I am now about 3 weeks into my recovery. I am so happy to be healing and feeling better each day, and to have been given another chance.
I love my life and really love my home at the Finger Lakes SPCA. They have done so much for Cole and me and all the animals in their care. I'm told they are only able to do all of this because of people who give donations to the shelter. We were rescued from longstanding neglect and our suffering ended. Thanks to people like you who give generously to the Finger Lakes SPCA, animals like Cole and me receive the care an hope we'd otherwise be without. Miracles happen! Please remember, they cannot do this critical work without you!
Years ago, in this country there was a horse who was know for his courage, spirit and determination to win. They said he came from rags to riches. His name was "SeaBiscuit". I am just a little horse. My name is "WeeBiscuit". Please won't you give a lifesaving gift today to help the shelter to cover my significant medical and care expenses (and Cole's too) along with all of the other needy animals who are currently finding hope and help at the Finger Lakes SPCA. If you normally give, please won't you consider something a little extra to help at this critical time?
WeeBiscuit, Cole (and 7 ducks) were rescued from animal cruelty in July by FLSPCA's Animal Rescue Team after receiving a request for assistance with the animals from law enforcement. Two people were charged with animal cruelty by the Steuben County Sheriff's Office. The case is still being adjudicated.
Sincerely,
Vicki S. Mosgrove, Executive Director &
FLSPCA Board of Directors
Visit FingerLakesSPCA.org for Adoption Specials, The Shoppe, FLSPCA Wish List or to give an online gift!
YES, I WANT TO PROVIDE MEDICAL CARE AND SHELTER FOR THE ANIMALS!
To mail in your donation, please click here to print and fill out our mail in donation form.
Make a gift today
Donate now through Network for Good to donate online.