New York State Registered Rescue Registration Number: RR157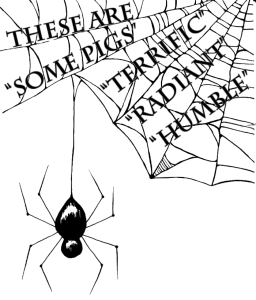 THESE ARE "SOME PIGS", "TERRIFIC", "RADIANT" and "HUMBLE"!
Potbellied Pigs in Search of Hobby Farm Homes, Rescue or Sanctuary Placement!
In May of 2019, we were called upon to assist 9 adult potbellied pigs who were very hungry, thirsty and itchy. They were in great need of nourishing food, hydration and medical care to relieve their suffering. One pig went on to give birth to 3 piglets, which brought our number in need of care up to 12. Since receiving needed rehabilitation, all pigs are now feeling much better and are ready for rehoming.
Pig visits are by appointment only and are arranged after adoption applications are approved. Please call 607-622-5363 for more info about the adoption process, to confirm a pig's continued availability and to schedule an appointment.
"Why did you do all this for me?' he asked. 'I don't deserve it. I've never done anything for you.' 'You have been my friend,' replied Charlotte. 'That in itself is a tremendous thing."
― E.B. White, Charlotte's Web
Farm Animal Adoption Application
Click on photos to view names and approximate ages.