New York State Registered Rescue Registration Number: RR157
Please note: ALL OF OUR SHELTER PIGS MAY NOT BE POSTED HERE
The best way to find out about additional pigs who may be available for adoption would be to message our Facebook page or email: info@fingerlakesspca.org. Our pig population sometimes consists of pigs being held for court cases, pigs who need more extensive time to be medically cleared, etc. These pigs may have longer holding periods and cannot be made available for adoption until their case is adjudicated and/or a veterinarian determines they are healthy and ready for adoption. Sometimes we receive very adoptable pigs in who are seen via public visitation and spoken for before we have an opportunity to post on our website. If you are interested in knowing what other pigs we may have available, please message our Facebook page or email info@fingerlakesspca.org.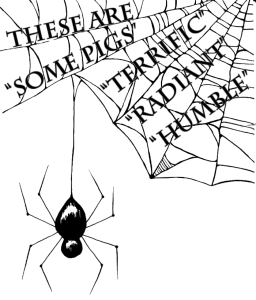 THESE ARE "SOME PIGS", "TERRIFIC", "RADIANT" and "HUMBLE"!
Our personable Potbellied Pigs in Search of Hobby Farm Homes, Rescue or Sanctuary Placement! Or, if you have room in your heart and at your hobby farm, please consider adopting Albert Einswine, Penny & Matilda or one of our other potbellied pigs looking for homes. All have current vaccines and have had recent hoof trims.
Pig visits are by appointment only and are arranged after adoption applications are approved. Our pig adoption fee is $65 (but are discounted for pair adoptions). Please email your completed adoption application and questions to info@fingerlakesspca.org, mail it or stop in, our shelter is at 72 Cameron Street in Bath (11 am to 4 pm except Thurs. and Sun. -Closed).
Pig visits are by appointment only and are arranged after adoption applications are approved. Please call 607-622-5363 for more info about the adoption process, to confirm a pig's continued availability and to schedule an appointment.
"Why did you do all this for me?' he asked. 'I don't deserve it. I've never done anything for you.' 'You have been my friend,' replied Charlotte. 'That in itself is a tremendous thing."
― E.B. White, Charlotte's Web
Farm Animal Adoption Application
Click on photos to view names and approximate ages.